Hui, da waren die Küstenzauberer aber dieses Mal wirklich schnell. Nur wenige Stunden, nachdem ein Bild von vier neuen Magic-Editionen seine Runde im weltweiten Netz machte, meldeten sich Wizards of the Coast über ihren offiziellen Twitter-Account zu Wort.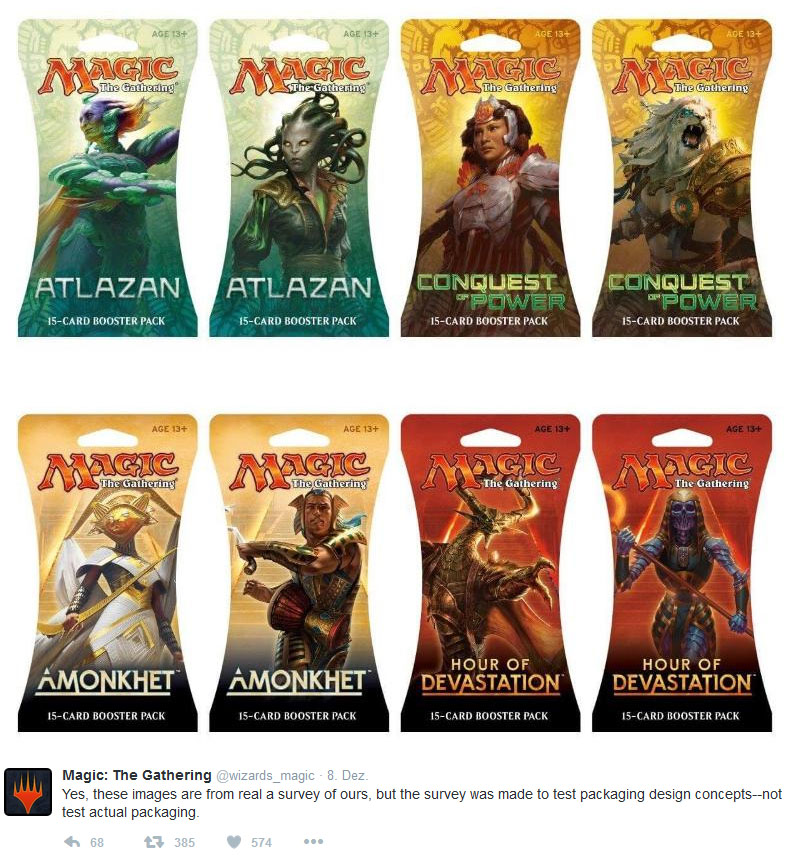 Ja, bei dem Bild handle es sich tatsächlich um von WotC herausgegebene Booster. Aber es handle sich dabei lediglich um einen Test für neue Verpackungskonzepte. Es ist nicht klar, ob es sich bei den beiden Editionen "Atlazan" und "Conquest of Power" um tatsächlich geplante Editionen für den nächsten Spätsommerblock handelt oder es offizielle "Fake-Editionen" sind – schließlich kennt WotC die Leak-Gefahr mittlerweile zu gut.
Sollte es sich um tatsächliche Editionen handeln, so ist schwer zu glauben, dass es sich bei Atlazan um eine neue Planes handelt, denn letzten Endes haben wir ja zuvor schon mit Kaladesh und Amonkhet neue Welten betreten. Wahrscheinlicher ist eine Rückkehr auf eine alte Plane und die Layout der Booster lassen Theros vermuten. Aber da wir alle nichts genaues wissen, bleibt erstmal nur eines: Abwarten und Glühwein trinken. WotC werden sich noch früh genug zu Wort melden.
Darüber hinaus: Es ist sicher sehr vorbildlich und längst überfällig, dass sich WotC ein paar Gedanken zu alternativen Verpackungskonzepten machen. Man mag nur hoffen, dass sie dieses Mal besser durchdacht sind als damals bei MM2.