Ja, Ladies & Gentlemen, ihr habt richtig gelesen: Richard Garfield, Erfinder von Magic the Gathering, ist gebanned! Dass man das nochmal erleben darf.
Aber natürlich nicht in der Form, wie Ihr jetzt vielleicht denkt. Vielmehr geht es um diese Karte: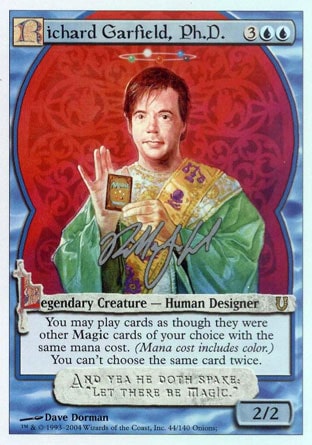 Mit dem Erscheinen von Unstable sind im Format EDH/Commander bis zum 15. Januar Karten mit silbernem Rand legal [Siehe hier]. Selbstverständlich gibt es auch eine Ban-List – und auf dieser steht halt auch eben Richard Garfield, Ph.D.
Grundsätzlich ist das temporäre Zulassen von Un-Editionen in Commander durchaus interessant, ermöglicht es doch das Spielen recht starker Karten wie bspw. The ultimate Nightmare of the Wizards of the Coast Customer Service.